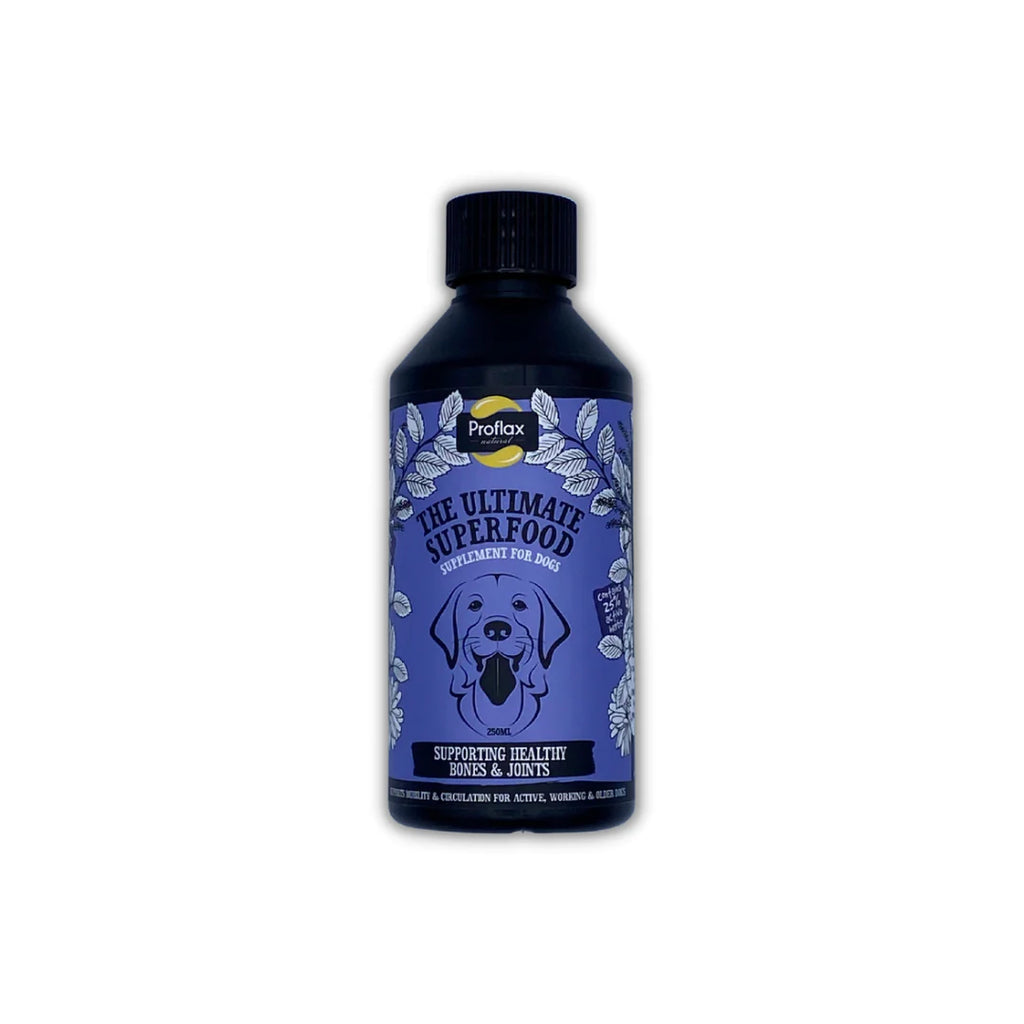 Proflax
Proflax Bone & Joint Supplement 250ml
Bone & Joint superfood supplement contains only 100% natural British grown premium ingredients consisting of 80% omega-3 rich cold pressed flax oil and 20% of Proflax's unique vet approved formula of high strength active herbal extracts.
No chemicals or preservatives are added.
When added daily to raw, wet or dry food it helps to maintain optimal health and wellbeing on an ongoing basis while supporting specific areas of concern.
This highly nutritious ready blended superfood supplement provides your dog with their '5 a day' nutrients plus gives multiple health benefits which will help to keep your dog in tip top condition.
This product is ideal for active, working or older dogs or those recovering from bone/joint/ligament injury or operation.
Bursting with minerals, protein and fibre this delicious supplement is offered in an easy to feed liquid that, when used regularly, completes a balanced, nutritious feeding plan. Bone & Joint offers multiple benefits for your dog;
'5 a day' nutritional support; vitamins, minerals, protein, fibre and phytonutrients

Aids bone density and supports joints and ligaments

Assists a healthy circulation and blood vessel flow

Offers natural pain relief, helps to keep calm and relaxed

Supports a healthy brain and heart

Cleanses the kidneys of any built-up toxins

Regulates metabolism and hormone function 

Keeps the immune system strong
The active herbs in this blend have been created by a holistic vet to work in synergy so that their healing power and every ounce of nutrition is absorbed efficiently.
Proflax's herbal formulas are in their raw and active state, so provide essential nutrients (vitamins & minerals) that produce the enzymes necessary for efficient conversion of Omega-3 ALA in the flax oil to DHA/EPA in dogs.
Herbal ingredients are as follows;
Withania - maintains good joint mobility and has a relaxing and calming effect on the nervous system
Ginger - packed with vitamins B5 and B6, potassium and manganese so promotes bone density. Aids circulation
Turmeric - rich source of vitamin C, calcium, iron, niacin, potassium and zinc. Helps reduce inflammation, aids digestion, maintains cardio function and cleanses Taraxcacon (dandelion) - rich source of natural A, C, E and B complex vitamins & calcium so great for bone health. Cleansing and detoxifying
Gotu Kola - packed with calcium, manganese, potassium, selenium, zinc, and vitamins C and B. This power herb cleanses, aids circulation and collagen production, protects veins and blood vessels
Liquorice root - immune and adrenal support and makes the formula taste great!
---
Share this Product