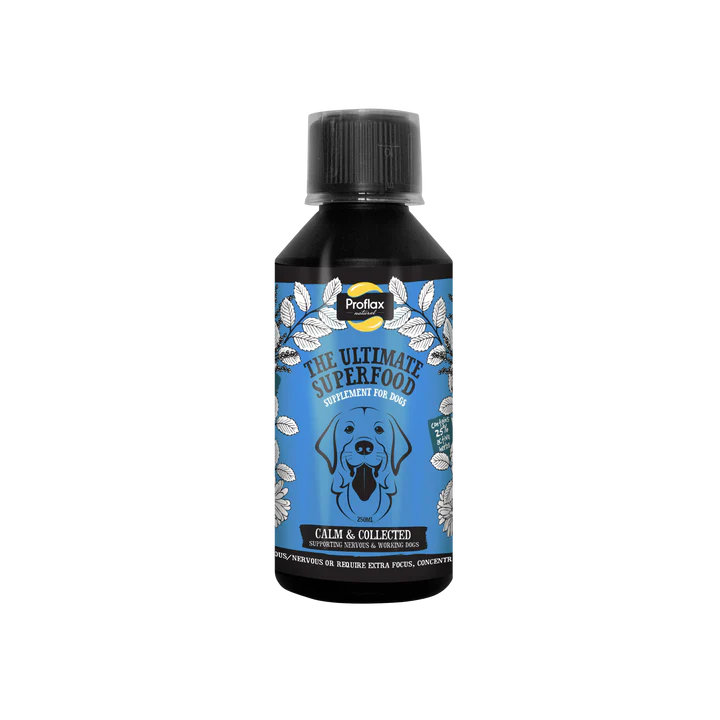 Proflax
Proflax Calm & Collected 250ml
Calm & Collected is a gentle blend that will help your dog feel more relaxed and happy. It is ideal for dogs with low level anxiety or those who struggle to keep their focus or concentration when training or competing and can be used alongside a training/behaviour programme. In addition, this blend provides added support of bones & joints for working dogs.
Calm & Collected is a premium 100% natural holistic superfood supplement that contains 75% cold pressed flaxseed oil and a 25% blend of 8 concentrated active herbal tinctures; Skullcap, Withania, Chamomile, Astragalus, Gotu Kola, Ginger, Turmeric and Liquorice. This blend supports the health of bones, joints, circulation, ligaments & connective tissue plus helps to maintain overall good health of the heart, digestive, immune & reproductive systems. The fresh ingredients also provide nutritional support.
This blend contains 4 adaptogenic herbs that help to support physical and emotional wellbeing. The herbs in this formula have been selected by a holistic vet for maximum health benefits, which can be shown in as little as 5-7 days in some dogs.
---
Share this Product