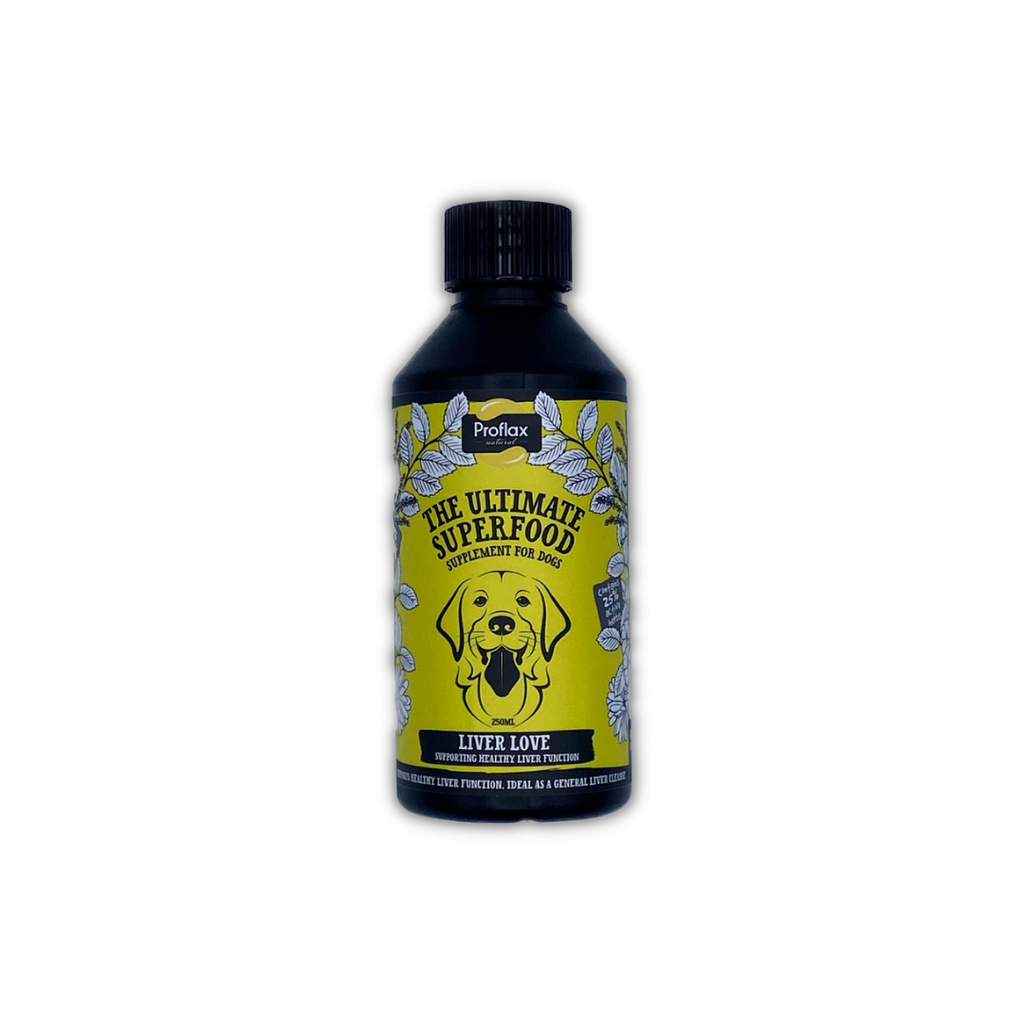 Proflax
Proflax Liver Love Supplement 250ml
Liver Love by Proflax is a ready blended formula that specifically aids detoxification of the liver and helps to maintain optimal liver function.
A build-up of toxins in your dogs liver can cause problems. Generally, these toxins aren't harmful as a healthy liver expels waste regularly. However, there may be times that your dog needs a little extra help in cleansing through these toxins, which can be after an illness, infection, operation, taking medication or if they are elderly. Some breeds may simply be more predisposed to liver problems.
The active herbs in this formula are Dandelion, Milk Thistle, Yarrow, Artichoke, Schizandra, Yellow Dock & Liquorice. The inclusion of flaxseed oil additionally helps to maintain the overall good health of the heart, digestive & reproductive system, supports mobility & circulation and aids metabolism. The active ingredients provide nutritional support.
Liver Love contains 3 adaptogens which are a unique class of healing herbs that help to balance, restore and protect the body both physically and emotionally. The herbs in this formula have been selected by a holistic vet to work in synergy so that their healing power and every ounce of nutrition is absorbed efficiently. Visible relief and health benefits can be seen in as little as 7 days in some dogs.

Delicious, nutritious and easy to feed to even the fusiest of dogs.
Available in 250ml, 500ml and 1 litre. 
Key benefits:
Supports healthy liver function

Cleanses toxins from the liver

Aids circulation

Keeps the immune system strong

Nutritionally supportive

Holistic formula which promotes physical and emotional well-being

 
The active herbs in this blend have been formulated to work in balance for maximum efficacy. 
Shake well and pour over regular food once daily. Store in fridge to maintain freshness. Feed 1ml to every 2 kg of the dogs weight. For more acute conditions feed 2ml to every 2kg for 7 days then 1ml to every 2kg thereafter. If using a a preventative approach feed either once daily or every other day depending on level of support required.   
---
Share this Product