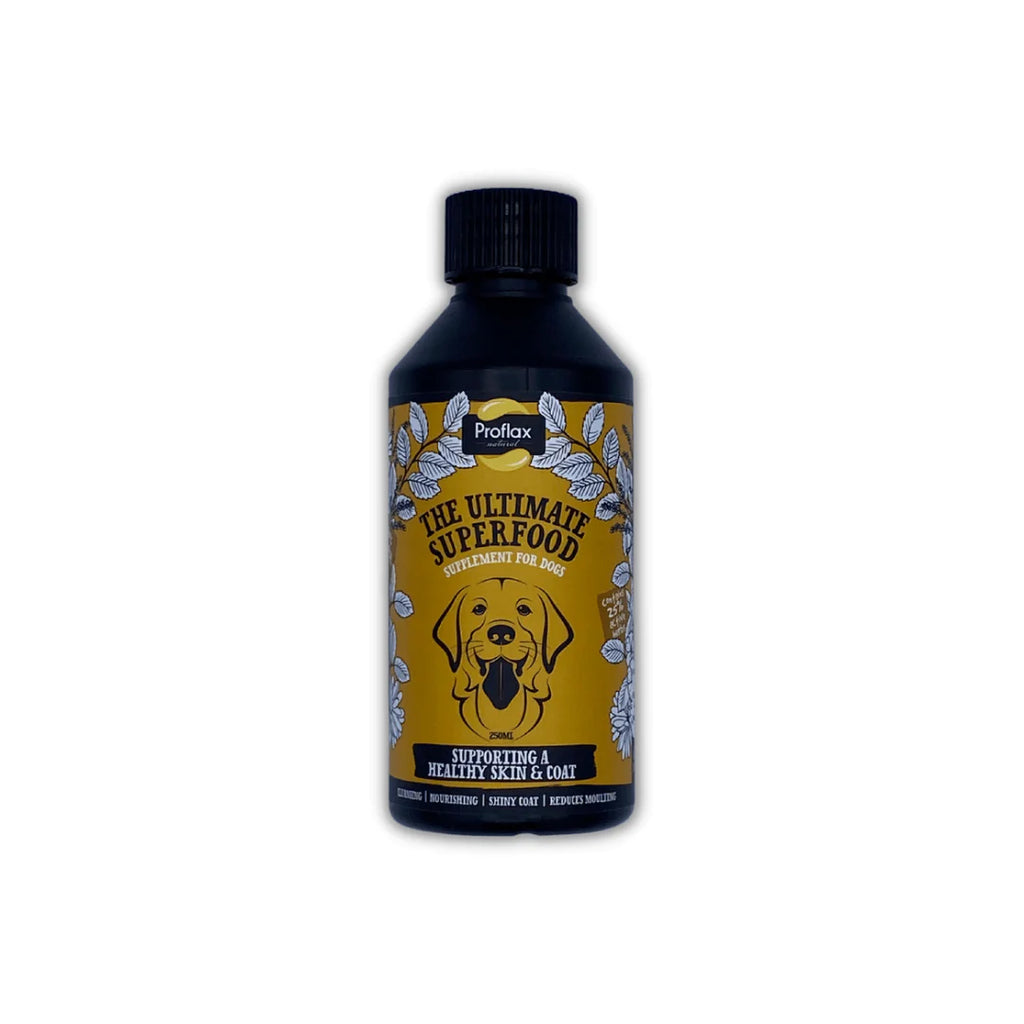 Proflax
Proflax Skin & Coat Supplement 250ml
Skin & Coat by Proflax is a daily superfood supplement which helps to soothe, itchy, sensitive skin, promote a shiny coat, alleviate allergies, reduce hair shedding and has a calming effect. Provides those essential '5 a day' nutrients to keep your dog in the best of health.
The product consists of 75% cold pressed flax oil and a 25% vet approved formula of 7 powerful active herbal extracts. This ready blended superfood supplement provides your dog with their '5 a day' nutrients plus gives multiple health benefits which will help keep your dog in top condition. 
When added daily to raw, wet or dry food it helps to maintain optimal health and wellbeing on an ongoing basis while supporting specific areas of concern. Bursting with minerals, protein and fibre, this delicious supplement is offered in an easy to feed liquid that, when used reguarly, completes a balanced, nutritious feeding plan.
This product is ideal for dogs that suffer from seasonal allergies, have dry flaky skin, dull coats or excessive moulting.
The herbs in the supplement include Wild Nettle and Skullcap which both contain natural anti-histamine, Sarsparilla which is full of antioxidants and contains a natural steroid, and Chamomile, to help relax and sooth your dogs skin.
Your dogs coat will be shiny and like new in no time!
Skin & Coat offers multiple health benefits for your dog:
'5 a day' nutritional support; vitamins, minerals, protein, fibre and phytonutrients

Calms itching and scratching, nourishes the skin, reduces moulting, promotes a healthy shiny coat

Calms and relaxes Supports a healthy brain and heart

Aids circulation and digestion Regulates metabolism and hormone function

Cleanses the liver of any built-up toxins

Keeps the immune system strong
INGREDIENTS
The active herbs in this blend have been created by Holistic Vet Nick Thompson to work in synergy so that their healing power and every ounce of nutrition is absorbed efficiently. Proflax's herbal formulas are in their raw and active state, so provide essential nutrients (vitamins & minerals) that produce the enzymes necessary for efficient conversion of Omega-3 ALA in the flax oil to DHA/EPA in dogs.
Herbal ingredients are as follows;
Urtica Dioica (wild nettle) - helps reduce allergies. Includes iron, phosphorus, potassium, calcium, magnesium, vitamins A, C K and B
Sarsaparilla - aids skin conditions. Has vitamins A, C, D and B complex • Camomile - relaxing, calming & soothing
Scutellaria (skullcap) - maintains healthy skin, soothes the nervous system, calming, anti-viral
Milk Thistle - cleansing and anti-oxidant herb that provides calcium, magnesium, potassium, folate and vitamin A
Ginkgo - a natural flavanoid and anti-oxidant. Aids a healthy nervous system
Liquorice root - immune and adrenal support and makes the formula taste great!
---
Share this Product