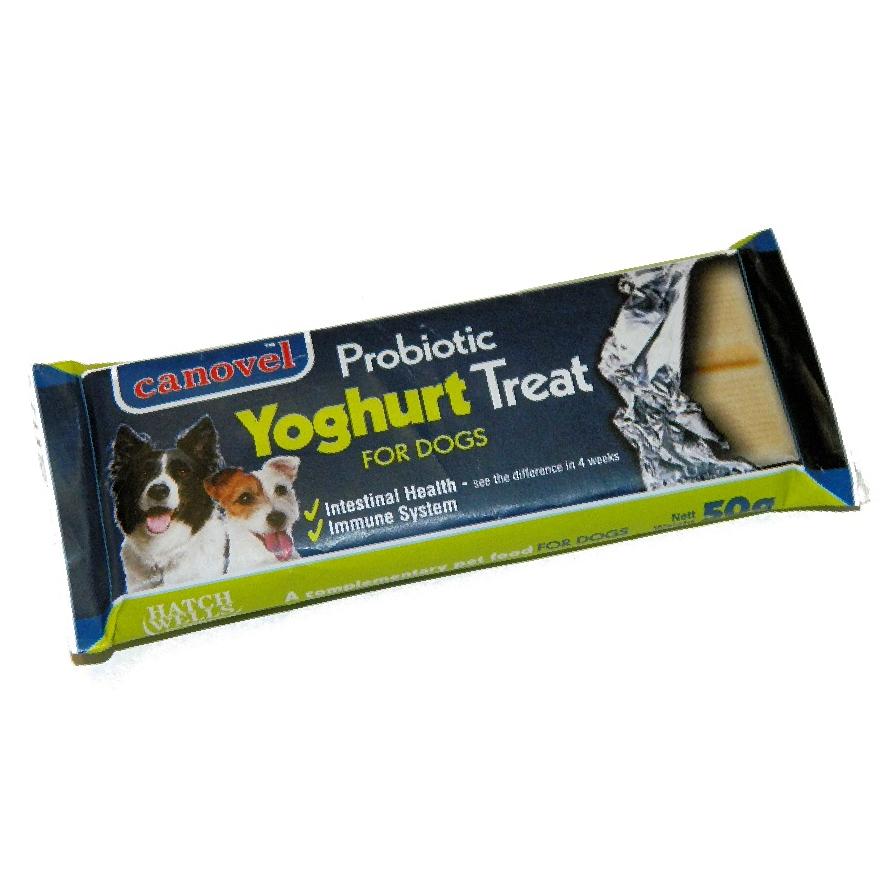 Canovel
Canovel Probiotic Yogurt Bar
A delicious, functional treat bar for dogs, the Canovel Probiotic Yoghurt Treat Bar is made with premium quality ingredients to provide a beneficial and healthy snack for all dogs, designed to enhance the health and wellbeing as well as satisfy your dog's cravings for an irresistible, safe and healthy treat.
Suitable for all adult dogs of any size or breed the Canovel Probiotic Yoghurt Treat Bar is ideal for daily feeding, containing irresistibly tempting ingredients that not only taste great but also help promote good health.  A complementary pet food it has been developed to be fed alongside a complete and balanced healthy canine diet, fed as a tasty treat between meals or reward for good behaviour.
Developed to enhance your dog's health and wellbeing and provide additional digestive support for all dogs the Canovel Probiotic Yoghurt Treat Bar is an ideal way to boost your dog's gut and digestive health, with added gut flora stabiliser/probiotic culture, Enterococcus Faecium, added to promote good health, healthy digestion and a strong immune system.  When fed daily it promotes strong intestinal immune system health, with visible results in only four weeks! It also contains real yoghurt  providing a rich source of calcium that promotes strong teeth and bones for a happy, healthy, fit and active dog every day!
A delicious, healthy treat bar made with dog-friendly ingredients
Made with high quality ingredients to promote good health
Functional and delicious
Contains REAL yoghurt for a rich source of calcium that promotes strong teeth and bones
With added probiotic culture Enterococcus Faecium to aid healthy digestion and support a strong immune system
With visibile results within four weeks when fed as instructed
Ideal for daily treating between meals or as a reward for good behaviour
Moulded like a chocolate bar, allowing for easy feeding with ready formed treat squares
Enhances the health and wellbeing of your dog
Suitable for all adult dogs
Feeding Instructions: Feed as a snack using the following guidelines:
Small Dogs up to 10kg – 1 square per day
Medium Dogs 10kg to 25kg – 2 squares per day
Large Dogs over 25kg – 4 squares per day
Composition: Various Sugars, Hydrogenated Vegetable Oil, Whey Powder, Yoghurt Powder 7%, Wheat Flour, Soya Lecithin. Analytical Constituents: Protein 4.2%, Crude Fibres 1.8%, Crude Oils and Fats 3.8%, Crude Ash 1%, Moisture 1.5%.
---
Share this Product