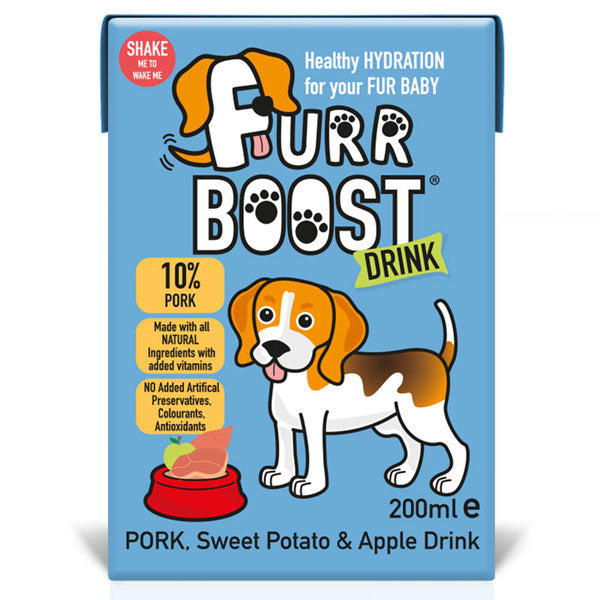 Furrboost
Furr Boost – Pork, Sweet Poatato and Apple Drink
Furr Boost is a tasty complementary drink to your dogs daily water intake, designed specifically to aid your dogs well being.
400ml

A complementary feed for dogs, with Real Pork, Sweet Potato and Apple plus added oils and vitamins.
Furr Boost help with your dog's:
Hydration
Skin and Coat
Healthy Metabolism
Anxiety
Immunity
Digestion
Composition:
Composition: Water, Pork (10%), Sweet Potato (8%), Apple (4%), Flaxseed Oil, Coconut Oil, Salmon Oil, Dried Sea Kelp, Chicory root extract (as a source of the prebiotics FOS and Inulin, 0.36%), Yeast products (as a source of beta-glucans, 0.004%):
Additives:
Nutritional Additives (per 1000ml): Vitamins; Vitamin C 825mg, Niacinamide 15mg, Vitamin B1 8.3mg, Calcium-D-pantothenate 7.5mg, Vitamin B2 1.5mg, Vitamin B6 0.75mg, Folic acid 0.75mg, Biotin 0.075mg.
Storage Instructions
Store in a cool dry place, once opened keep refrigerated and use within 4 days.
Preparation Instructions
Shake me to wake me. Open the lid carefully to avoid spillage.
Daily Feeding Instructions
Serve in your dogs food bowl either on its own, in-between meals or over food.
0Kg to 5Kg = 1/4 pack
5Kg to 10Kg = 1/2 pack
10Kg to 25Kg = 1 pack
Over 25Kg = 2 packs
Freshwater should always be readily available.
Ideal for dogs fed on a dry or wet & dry combination diet – may not suit dogs on a raw feeding diet.
Other Furr Boost your fur family will love! 
---
Share this Product