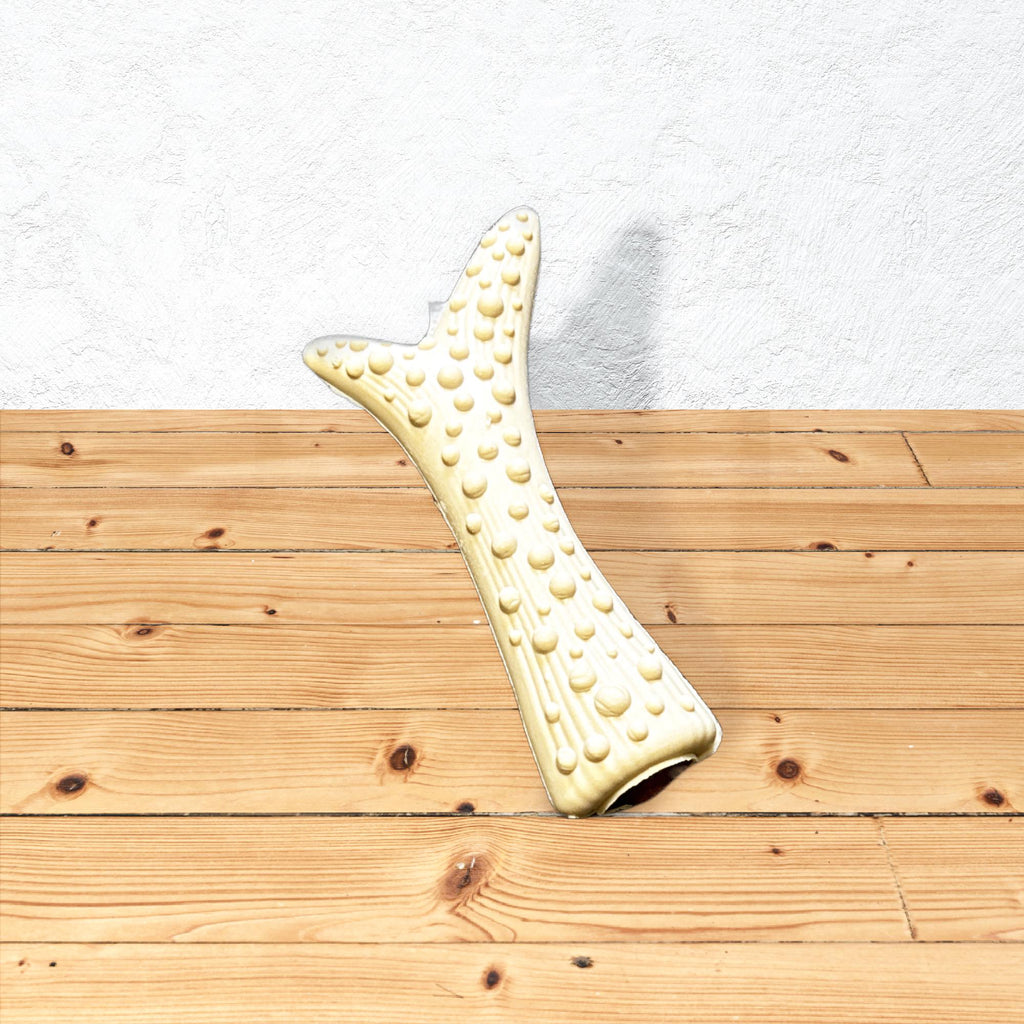 Wags & Whiskers Pet Boutique & Canine Cafe
Peanut Butter Filled Veg Antler
Maks Patch Veggie Antlers are natural Peanut Butter filled, the delicious chews are in a fun Antler shape with bumps along the surface for texture and helping to reduce plaque along the way.
Mak's Patch Veggie Treats are made with Sweet Potato & Peas as their core vegan ingredients, other flavours such as peanut butter, spinach and apple are added during the process of making these.
Benefits
Gluten-free
Grain-free vegan based dog snack
Rawhide-free & Meat-free dog chew
Grain-free
Sugar-free
Low in Fat
Helps Reduce Plaque
Aids Digestion
Gentle on dogs stomachs
Benefits of the ingredients Sweet potatoes are great for digestive health because they're high in dietary fibre. They're also low in fat and contain vitamin B6, vitamin C, and manganese. They also have a sweet flavour they'll love. Peas are amongst the healthiest veg for your dog. A great source of vitamins A, B, & K. Packed with iron, zinc, potassium, and magnesium. Rich in protein, high in fibre. Over 70% of the composition is made up of sweet potato & peas alone. Brewer's yeast is rich in antioxidants which can make your dog's skin healthier and coat shinier. Calcium Carbonate is added to pet food as a source of calcium, which is an essential mineral for dogs. Pumpkin is packed with nutrients that benefit the overall well being of your dog. Carrots are rich in beta-carotene and Vitamin A.
Ingredients:
Sweet Potato Flour, Pea Flour, Vegetable Glycerin, Vegetable Oil, Dried Brewers Yeast, Calcium Carbonate, Real Peanut Butter (does not contain xylitol)
Analysis: Moisture (max 15%) Crude ash (max 5%) Crude fibre (max 5%) Crude protein (min 3.5%) Crude fat (min 1%) Length 10cm.
---
Share this Product