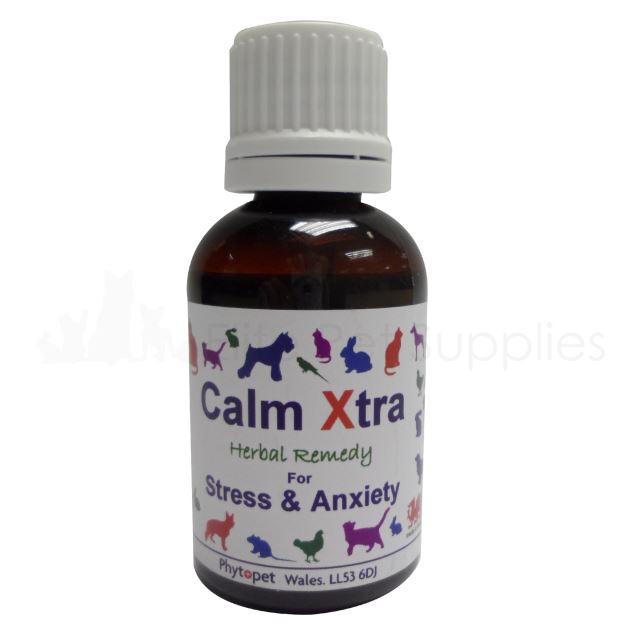 Phytopet
Phytopet Calm Xtra (2 Sizes)
Phytopet Calm Xtra contains a combination of natural herbal botanical extracts to help your pet cope with stress, separation anxiety and hyperactivity.

Works within 20 minutes.
Ideal for firework season and anytime your pet dog or cat is stressed or anxious.

Contains:

Valerian (Valeriana officinalis)
Naturally powerful, non-addictive and anti-spasmodic nerve relaxant, sedative, and pain reliever. Its actions are due to its calming and balancing effect on the central nervous system. Traditionally used for all states of nervous anxiety and irritability.

Skullcap (Scutellaria laterifolia)
Relaxing herbal remedy, traditionally used for nervous tension and anxiety with calming effect.

Oats (Avena sativa)
Gentle calming herb with a special affinity with the nervous system. In combination with Valerian, the synergy is special, each herb enhancing the action of the other.

Passionflower (Passiflora incarnate)
Traditionally used for sleeplessness, anxiety and irritability, its non-addictive calming effect is due to its action on the central nervous system.

Wild Lettuce (Lactuca virosa)
Traditionally used for hyperactivity, insomnia, anxiety, nervousness and excitability and to promote restful sleep. Works well in combination with Valerian and Passionflower.

Jamaica Dogwood (Piscidia erythrina)
Well known mild sedative and nerve relaxant, used by herbalists for over-excitability and sleeplessness.
---
Share this Product