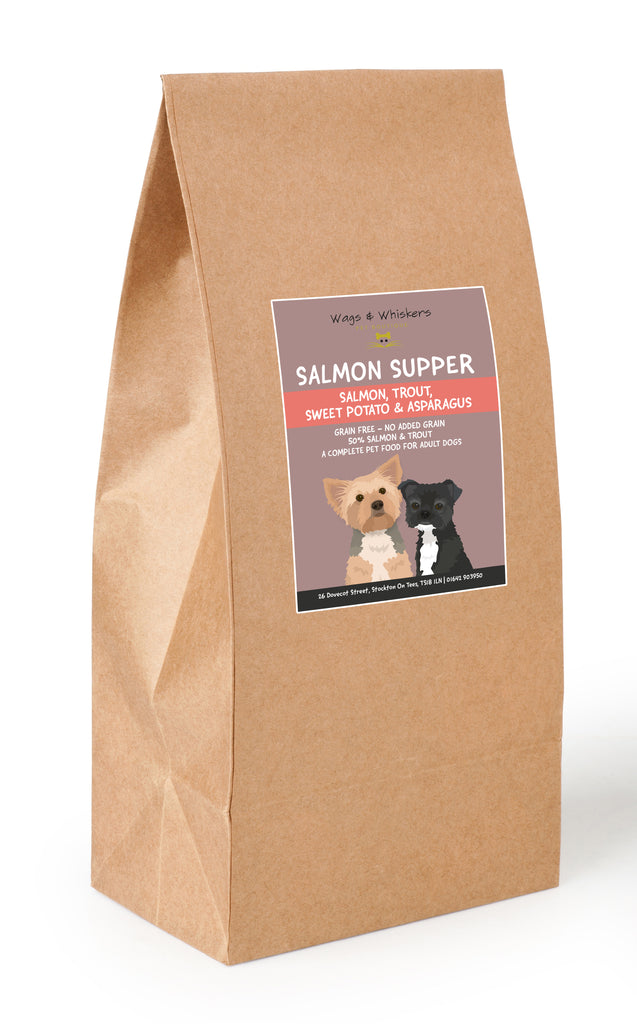 Wags & Whiskers Pet Boutique
Wags & Whiskers Grain Free Salmon Supper
Grain free dog food is perfect for dogs with sensitive tummies or grain intolerance. Our food uses sweet potato as a high-quality nutritional replacement to grain.
Designed to be suitable for dogs with grain intolerance/sensitivity. Freshly prepared fish is a great source of highly digestible animal protein and Omega 3.
No added artificial colours, flavours or preservatives.
50% Salmon and Trout, minimum 26% freshly prepared meat.
Added Omega 3 supplement to support cognitive function, visual development and help reduce the inflammation response 
Grain free
Salmon & Trout - A high-quality source of protein and potentially a novel protein source for your dog. Salmon and trout are rich in minerals, vitamins, omega 3 and amino acids.
Sweet Potato - A great complex-carbohydrate source which we to replace grains. Sweet potatoes are high in fibre which greatly helps digestive health while containing low levels of fat.
Asparagus - A natural ingredient with valuable nutrients and an additional source of fibre for dogs. We only use small amounts of asparagus (7.5g per KG) in our foods to ensure no difficulty in digestion.
Composition
Salmon & Trout 50% (including 36% freshly prepared salmon & trout, 12% dried salmon & 2% fish stock), sweet potato (26%), peas, potato (6%), beet pulp, linseed, vitamins & minerals, vegetable stock, omega 3 supplement, asparagus (equivalent to 7.5g per kg), FOS (92 mg/kg), MOS (23 mg/kg)
Analytical Constituents
Crude Protein 26%, Crude Oil & Fats 14%, Crude Fibres 3%, Crude Ash 8%
---
Share this Product