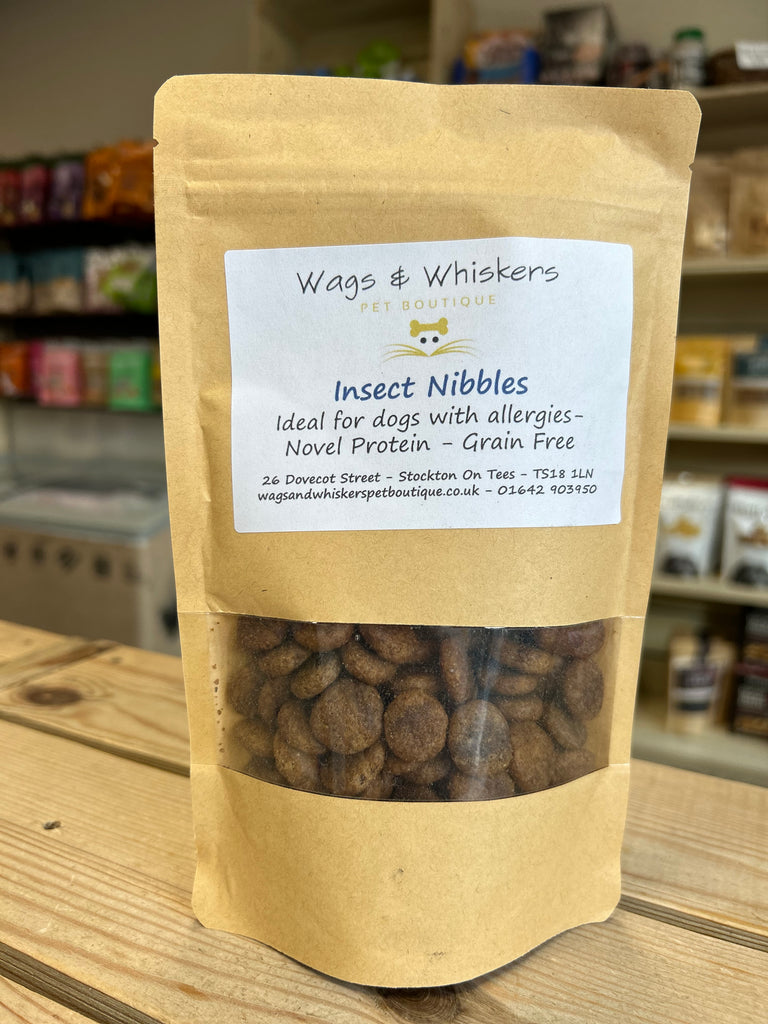 Wags & Whiskers Pet Boutique & Canine Cafe
Wags & Whiskers Insect Nibbles
Wwags & Whiskers Insects with Potatoes, Peas & Fava Nibbles are insect based treats suitable for all dogs, grain free and contains highly nutritious ingredients. 
Suitable for dogs with food allergies and sensitive tummies. 
Delicious, nutritious, protein-packed insects?
Yes, you read that right - insects are the unsung heroes of the food world. They're packed with valuable nutrients and are an excellent source of protein and vital fats. Easy to digest, and well tolerated by dogs with allergies and nutritional sensitivities, this novel source of protein is also better for the environment since insect rearing requires far less water and space than conventional meat farming, while producing far lower carbon emissions. And by the way: they're also very tasty!

Which is why we've used black soldier fly larvae (Hermetia illucens) as the No. 1 ingredient in this treat. The grain-free recipe combines insect protein with potatoes, peas and fava beans to create a delicious natural treat, made using just a few, honest and very nutritious ingredients.

:  20.0% insect protein (dried)*, 19.4% potato flakes, 16.0% potato starch, 11.8% peas, 7.2% fava beans, 7.1% rapeseed oil, 4.2% minerals, 4.0% brewer's yeast, 3.5% potato protein, 3.3% vitamin and trace element pre-mix, 2.5% linseed, 1.0% dried beet pulp, Hermetia illucens larvae.
Nutritional Analysis: Crude Protein: 22%, Crude Oils / Fats: 12%, Calcuim: 1.9%, Crude Ash: 7.9%, Fibre: 3.5%
Nutritional Additives: Vitamin A 12,000 IU, vitamin D3 1,600 IU, vitamin E 300 IU, vitamin C 200mg, vitamin B1 12mg, vitamin B2 (riboflavin) 12mg, vitamin B6 (pyridoxine hydrochloride) 10 mg, vitamin B12 (cyanocobalamin) 160mcg, niacin 35mg, calcium D-pantothenate 35mg, folic acid 1.2mg, biotin 300mcg, choline chloride 2,500mg, copper (copper(II) sulphate pentahydrate) 12mg, zinc (zinc sulphate monohydrate) 100mg, zinc (zinc chelate of glycine hydrate (solid)) 40mg, iron (iron(II) sulphate monohydrate) 200mg, manganese (manganous sulphate monohydrate) 35mg, iodine (calcium iodate anhydrous) 2.2mg, selenium (sodium selenite) 0.35mg, L-carnitine 100mg, DL-methionine 3,000mg, taurine 500mg
Technological Additives: Antioxidants  Energy/kg:ME (FEDIAF, 2019) 14.96 MJ/3,576 kcal 
Storage: Please keep in a dry and cool place away from any direct sunlight / heat sources.
Feeding Guide: Complementary feeds for dogs. Suitable for dogs from 8+ weeks. Not suitable for human consumption.
Please ensure your dog has plenty of fresh water daily. Supervision on all natural treats advised. 
---
Share this Product