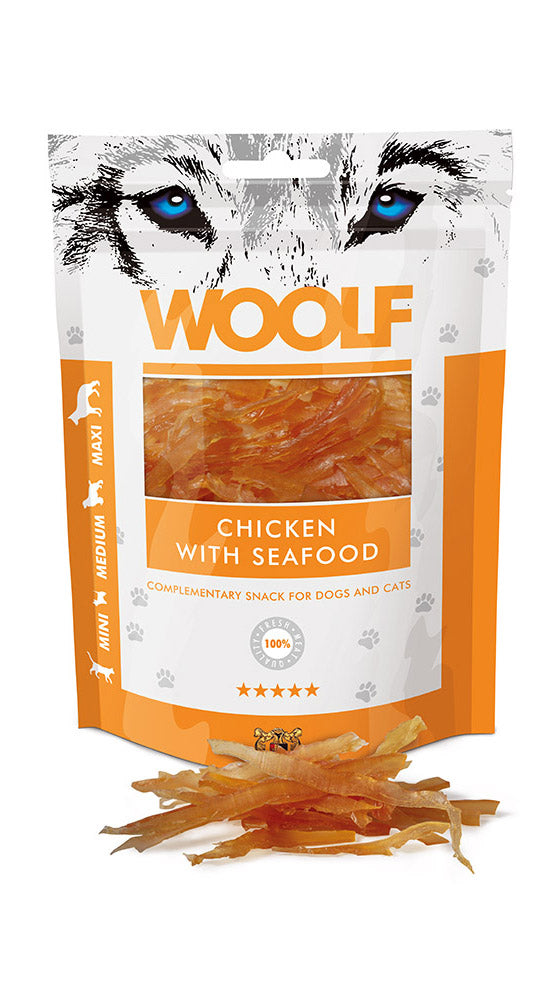 Woolf
Woolf Chicken with Seafood Treats
These WOOLF Chicken with Seafood 100g are made of 100% protein sources to provide the highest quality and the best nutritional intake for your pet. Fish is rich in Omega-3 and fatty acids which can help decrease inflammation and help keep a dog healthy. They are suitable for all sizes of dogs.
Key Features:
Top quality raw ingredients
High meat content
No additives, preservatives, colourings or salt.
Cruelty free meat
Suitable for all sizes of dog
Storage information:
After cooking, the WOOLF Chicken with Seafood is packed without any chemical additives, preservatives or colourings. As a result and to ensure freshness an oxygen absorber is placed within the bag and the pack is fitted with a zip. The deoxidizer is NOT edible. After opening please reseal and put in refrigerator. Once opened use within 7 days.
Why use dog treats?
Using dog treats is a great way to show affection to your pet and forge a strong bond. Also use as part of a training routine to reward and encourage good behaviour. In fact high quality treats (in small quantities) can contribute to better digestion, protect against diseases and increase activity as your dog works for a treat. This is because treats encourage chewing, increasing good saliva bacteria that protect the teeth and stomach. Also treats often have a mix of protein and healthy vegetables for a delicious flavour as well as containing essential vitamins and minerals. Finally, remember to check ingredient lists carefully to get treats with high quality ingredients and avoid ones packed with fillers.
Ingredients:
Composition: chicken 92%, seafood extract 1%, glycerin 4%. Analytical Constituents: crude protein 40%, crude fat 4%, crude fibre 1%, crude ash 4%, moisture 30%.
---
Share this Product